Front door to the 'playhouse' (No I could not find a pink anything! Use your imagination the outside of the building is pink) from the front door window, the only window on the building, you can see the lights inside illuminating the color of the walls.
One of the toys outside of the playhouse
Abaddon's pet cat, Salem. He 'lives' in the small room turned toilet area.
One of many many barbie dolls that hang on nooses tacked to the wall
The once lovely wooden floor is now sticky with various fluids. my advice, never take your shoes off. and then burn them when you leave.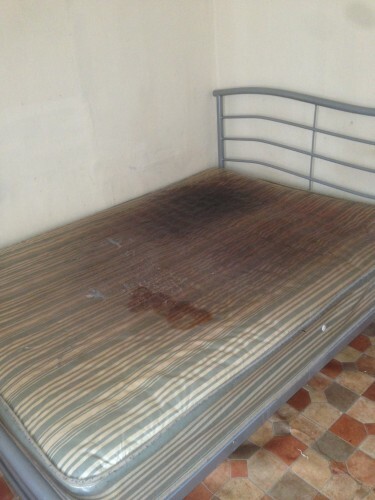 If you are lucky enough to spend a few nights. this is the bed you get to sleep on.
Her table where she host tea parties. and eats snacks. This is also where she likes to read and sketch in her note books. It sits in the center of the shack and is her most favorite thing in the playhouse.
Down to the dungeon
Found in both the dungeon and playhouse
those 'visiting' the playhouse always would be shackled to the floor. Only after Glenn's escape from Negan's dungeon has Negan decided those in the cell should also be shackled to the floor.
[center]
Baby monitors. both locations have one that can not be reached by the prisoner. A third one is located in Negan's home. Unlike the ones in the picture, the ones that are used have been modified to run off of electricity and not battery.
((That's all for now. possibly more to come.))
_________________
Redbubble